Packing "Light" for a Cold Destination
Many people think that taking a carry-on bag won't be enough for their getaway. Trying to pack "light" for a cold destination can be challenging if it's your first time.
This is a pretty lengthy post, scroll to the bottom to get a quick recap on my packing tips!
Packing List
A basic standard packing list is important when traveling, it helps you remember what to take. It should be one that isn't necessarily changing for the specific trip but evolving throughout your trips.
Layer Up
Rather than packing a lot of big jackets/sweaters, packing lighter clothing that can be layered takes up less room and can always help you adjust to the changing temperatures. Also, don't pack bulky sweaters, minimize the amount of sweaters you're taking and add more layers!
Examples: Turtle necks can be worn under t-shirts or sweaters, light sweaters, long sleeves, thermal top and bottom.
*Packing Tip: Instead of packing them, wear the bulkiest sweater you're planning on taking along with your big jacket.
Fabric Refresher
Man was this little guy a game changer when we went to Europe. I wasn't even the one to pack it, my friend did, and I sure did use it. After this trip I learned the importance of bringing one. Just spray it on to the clothes you wore that day and leave it hanging over night. It will help! (This one here is a great one to use.)
Shoes
Don't take a lot of shoes. Shoes tend to take up more space and a maximum of 2 shoes will be enough. 1 pair of boots and 1 pair of sneakers will do the job.
*Packing Tip: Pack socks, underwear, or other small things inside of your shoes! Also, wear the shoes that take up the most space on the airplane/car.
Jackets Jackets Jackets…
Of course you want to take a big jacket. Take one that is going to do the job. There's no need to take multiple big jackets, unless you have the room for it. Make sure you do not pack this item because it'll just take up unnecessary space. It may be a hassle carrying it through the airport but it'll allow you to take a few more items.
Warm Accessories
Don't be that person that forgets to bring gloves. Although you can buy them at your destination, this is something that can easily be worn on the plane or even packed inside your shoes. Make sure to take a scarf (not a bulky scarf) and gloves. Once again, these items can be worn instead of packing them.
Thermals
This is a really good investment and will keep you warm. A thermal long sleeve and tights can be worn underneath your clothing. It is a simple article that can help you adjust to the changing temperatures. You can save room and use the tights as pajamas.
*Packing Tips
(you're gonna want to read this)
Use a packing list

Pack a Fabric Refresher: This little spray sure does make a huge difference!

Take more tops than bottoms: You can mix and match using the same bottoms with different tops.

Take clothes that you can mix and match

Roll up your clothes: When doing so, make sure to roll them up tight. You can always iron/steam at your destination.

Stuff your socks/underwear inside your shoes

Wear your bulkiest clothes to the airport: This includes your big jacket, sweater, boots, and scarf. Do not pack them because these items are definitely going to take up a lot of room in your luggage.

Toiletries: If you can buy your toiletries at your destination, then just pack a toothbrush, toothpaste, face wash, deodorant for the plane.
The key to packing "light" when going to a cold destination is to learn and accept that you will be needing to use the same clothes more often during the trip. There's no problem in doing so because it's less likely for your clothes to smell quickly due to hot-sweaty temperature. And at the end of the day, you're traveling! So what if you use the same top 2 different days.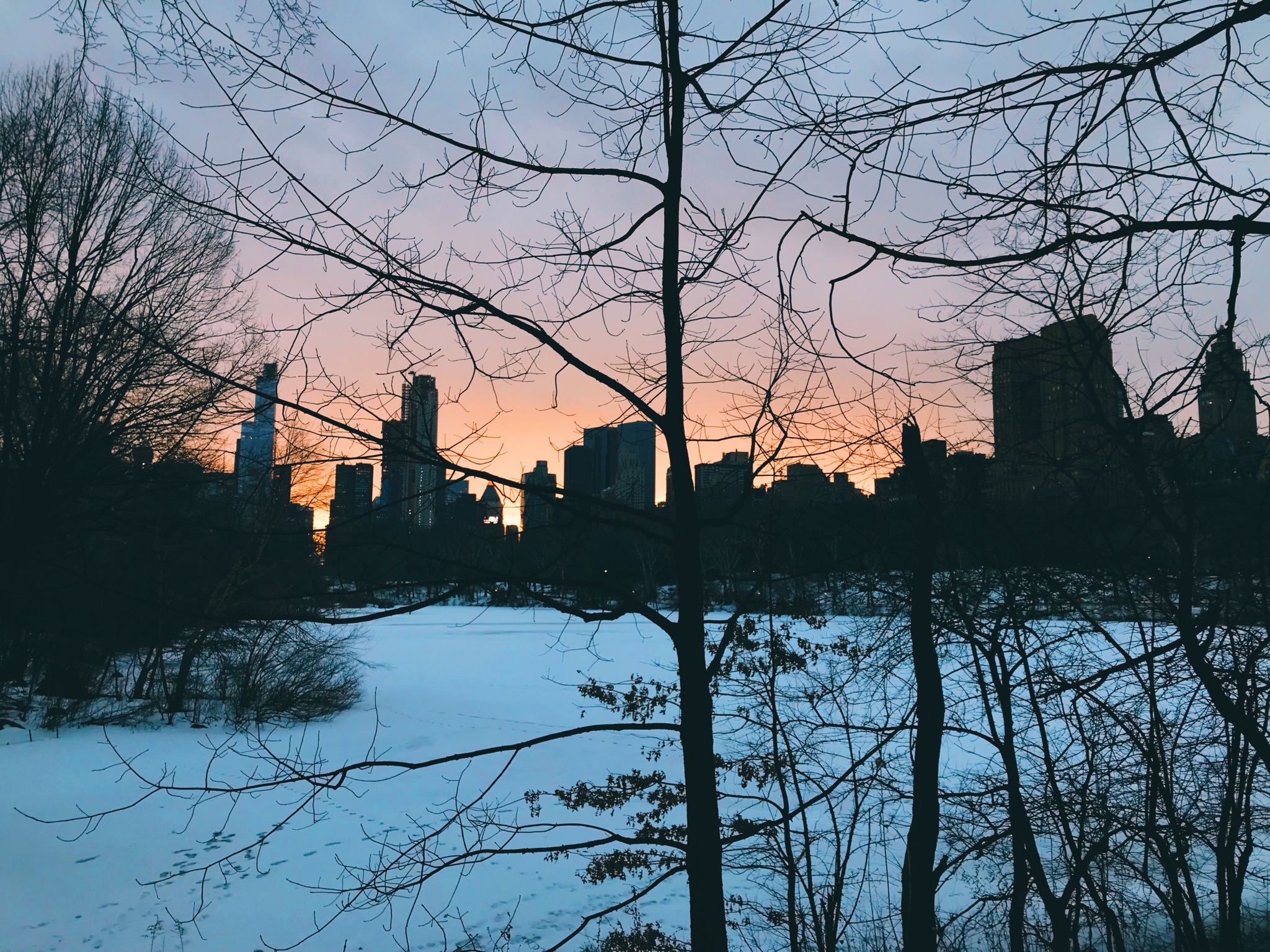 Photos and an itinerary for a 5 day trip included